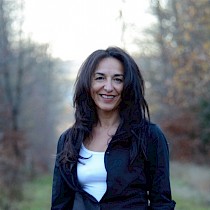 Gülsel Özkan is an international multiple award-winning author, filmmaker and producer. She is living in Germany but working worldwide. In 1987 she began to study film at the University of Fine Arts Hamburg and graduated with distinction in 1993. She works many years as a director and scriptwriter for documentaries and feature films. Since 1988, she realized across the world, among others: USA, Turkey, Greece, Guatemala, Ecuador, Costa Rica, China, Iceland, Guatemala, as an independent filmmaker and producer.
She has released documentaries and features for ARD, arte, NDR, WDR, BR, DW Phönix, H3, MDR and SFB as well as for international channels such as Spain TVE, 3sat and Planet France. Her films has been internationally televised and nominated for numerous times.
Some of the films are used in political education, with Amnesty International, Greenpeace, Pro-Asylum, the Refugee Council and the Country's Media Centres of school and various universities of the department Economics.
Since 2011 she is also teaching in various universities, among them the University of Arts and Design Karlsruhe as a lecturer for storytelling in S3D documentaries and feature films. She was a member of the jury for the 17th edition of "ÖKOMEDIA", an international environment film festival, at "Girls go Movie" Festival Mannheim, Member of the jury at Türk Film Festival Heidelberg-Mannheim, and President of the Jury by 3D Beyond Festival Karlsruhe 2015. In 2015 she was also program director of 3D Film Festival Beyond. Gülsel Özkan was Jury member of International Festivals like "International African Woman Film Festival (IIFF), Zimbabwe and VR Festival in Beijing in China in 2017.
She also in the management and project consultant in several "EU-Projects" and leading workshops in S3D workflow, from shooting to post-production.
Gülsel Özkan is the managing director of Planet Film Lc.
Gülsel has entered the digital media technology immediately and dealt with stereoscopy since of 2009. She was very quickly impressed with stereoscopic real images, just as mankind occupies three-dimensional space, audio-visual narrations should be rethought with this new technology.
She researched and teaches new dramaturgical models for interactive digital storytelling and art forms for 2D and 3D as well as Virtual Reality.
She has written several screenplays and advised dramatically. As 3D producer she contributed to the successful realization of many projects mainly Short Films, documentaries and art installations like "Multicultural Society 3D and Global(is)olation in 3D.